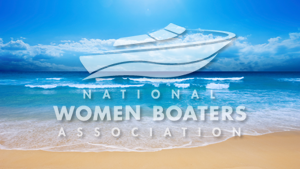 About Us: National Women Boaters Association
National Women Boaters Association is all about you: the woman that loves boating. Whether you like to take the helm, want to learn more about boating or love to go along for the ride, we are the organization for you.  Here you will find information about boating events, maintenance, cool boating stuff and everything that you need to live the boating lifestyle. At NWBA we want to empower you to feel comfortable whether you are a seasoned boater, beginner or need help buying or maintaining a boat.
National Women Boaters Association is a women-powered organization founded by Karen Camasso and Brigid Connor. Located in Cleveland, OH on Lake Erie, we love boating, want to know more about it and yearned for an organization for women boaters, so we started National Women Boaters Association.
We are an interactive organization looking to expand services in education, entertainment and more. Please join as a member and help support our organization. Like us on Facebook or follow us on Twitter. Our LinkedIn group is open. You can also email us if you have questions, suggestions, have an interest in advertising or just want to say hi!
Sincerely,
Brigid Connor and Karen Camasso
1-855-396-BOAT
NationalWomenBoaters@gmail.com