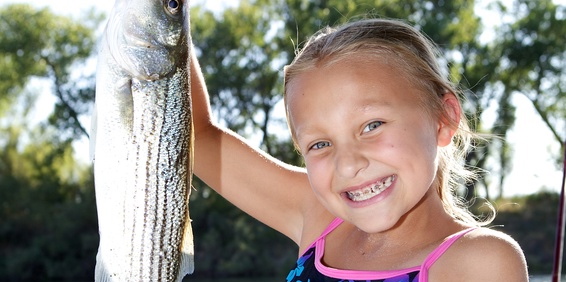 Always wanted to fish, but didn't know where to start? We asked Debbie Hanson and Natalie Leeke of B'ASS Fisherwomen for expert advice on fishing. Here are their helpful tips!
How do I pick out a fishing rod?
 If you are just starting out, plan on spending around $100. We love to recommend the Pflueger Lady Trion Spinning Combo. It's great for most beginners, and they even have a men's version. For ladies with more experience, a bigger budget and an eye for design, we love St. Croix's Avid Pearl, but we're still hoping for a saltwater version.
 If you are new to the sport, going to an outdoor sporting goods store like Bass Pro, Cabela's or Gander Mountain is a good idea. Staff there will usually be knowledgeable enough to help you pick out something appropriate. Some points to consider:
– Freshwater or Saltwater? A saltwater rod is built to resist corrosion.
– Grip. If you're a lady, you may want to look for a rod with a smaller grip. Try them out in the store and see how your hand fits around it. If you are a lefty, make sure get an interchangeable or lefty reel. Some lefties fish right handed.
– Ask if they can spool the line onto your reel for you at the store if you are a beginner. Braid is more expensive than monofilament, but can cut down on the tangle-potential for a beginner.
– Baitcaster or Spinning Reel? Baitcasters take a little more practice but can give more accuracy and distance to your cast. They also require a different rod.
– You can buy the rod and reel separately, or sold together as a "combo", which is a great option for a beginner.
– There are lots of other considerations like action, weight, and length. Dick's Sporting Goods has a pretty good online guide if you are past the beginning stage or would like to know more.
– Make sure it will fit in your car! If you have limited space consider a two piece rod or a Sumo Suction Rod Carrier or Vac Rac Combi.
 What should every woman have in her tackle box?
 Here are 10 basics: Pliers and clippers. Extra line, weights, hooks and lures. Especially for the ladies: Odor-off hand soap, sunscreen, and your iPhone (serves as a camera, knot guide, fish identifier and bragging platform). Last but not least… your fishing license!
What is the best way to clean a fish?
 Youtube! Search on youtube.com for the species or a similar one. Get a filet knife (it can be an inexpensive one). A Big Norm Fish Scaler helps a lot too. Practice makes perfect!
What does your website www.bassfisherwomen.com have to offer?
 Resources and inspiration for women who want to get into fishing, or are already into fishing or another outdoor sport. Reviews on gear, clothing, and beauty products from the "fisherwoman" perspective. News on events, social issues and newly-released products. Plus lots of videos, tips and recipes. We also have an apparel shop for those who want to represent!
What do you most enjoy about fishing?
 Nat: Contemplating the mystery of what's going on under there and the super-charged potential for surprise every time I fish.
 Deb: I love being outdoors, especially on the water, and learning from everyone I fish with. There's always more to learn!