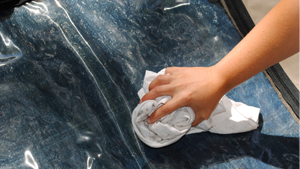 Isinglass is a generic name for your boats clear plastic windows.  Most often, isinglass is a part of your canvas "camper top" enclosure which can be zipped or snapped to your boats existing bimini top, t-top or windshield. The utmost care should be utilized in cleaning isinglass as it is very sensitive to scratches and harsh cleaners.  Additionally storing your isinglass properly will protect it and ensure clear sightlines for both you and your passengers all year long.
Be sure to purchase a cleaner especially made for plastic windows at your local marine store and be sure to follow the directions on it. A product we have used with great success has been Plexus Plastic Cleaner, Protectant & Polish. Using household cleaners will damage the sensitive plastic and will haze. Additionally, using paper towels or other paper-based towels will scratch your plastic, so be cautious.
Storing isinglass is also vital to keeping your windows clear for years to come. Since isinglass can crack, rolling it instead of folding it into its storage bag will prevent that. Keeping a soft towel in-between each sheet will help to keep the glass from scratching itself as well.