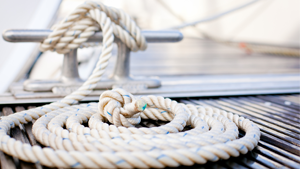 You made the purchase of your first boat, now what?  First, give yourself a pat on the back! Next, read this boating essential lists on all the gear you will need for a safe, pleasurable boating experience.
The following are required by federal law:
Registration papers must be on board at all times
Life jackets are required for each person on board
Throwable flotation device. If your boat is 16' or longer, you must have this
Fire extinguisher-if your boat's engine or fuel tank is enclosed
Distress signals, such as flares-make sure to check the expiration dates!
Horn or whistle
Navigation lights for nighttime operation
Although these items are not required by law, they are necessary for safe boating:
Dock lines to tie your boat up
Fenders-protect your boat from docks and other boats while tied-up
Tool kit for on-the-fly repairs
Marine radio-this should be a requirement. This will allow you to relay distress signals to the Coast Guard as well as communicate with other boaters, bridge operators and port managers
First aid kit
Boat anchor, this can save your life if your engine loses power
Boat hook-helps fend-off other boats in close quarters docking scenarios, grab lines, etc.
With careful preparation and safety your number one priority, you can protect your boat and keep yourself on the water for years to come. Don't forget a full tank of gas!