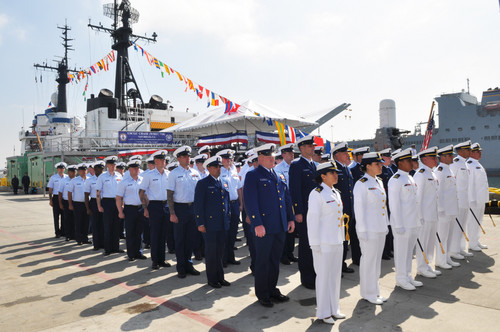 If you are going to have only one boating app on your smartphone, this is the one of the best free boating apps to have. The US Coast Guard (USCG) has just released a free app available in the App Store and on Google Play that has a variety of features you may find helpful. Overall the app focuses on safety while boating. It has 10 basic features: State Boating Information, Request Safety Check, Review Safety Equipment, File Float Plan, Rules of the Road, NOAA Buoys, Report Hazard, Report Pollution, Report Suspicious Activity and Emergency Assistance.
State Boating Information–
I wish this feature was more helpful. It only provides a link to your state's boating regulatory site. It would be great if it listed specifics about each state's unique rules.
Request Safety Check–
Here you can request that the USCG perform a safety check on your vessel. The app mentions that volunteers often perform this function.  If you are uncomfortable checking your safety equipment yourself, this option is an excellent service.
Review Safety Equipment–
The app uses your vessel's length to determine what safety equipment you require.  The larger the boat the more safety equipment is needed.
File Float Plan–
This is one of the top features of this app. If you are like many people, you probably do not file a float plan. A float plan lets someone know exactly where you are going and when you'll be back.  This feature on the USCG Mobile app allows you to use multiple names for float plans so you can file different ones for different trips. For instance, if you often take a ride to a particular marina then that plan could be filed again and again without having to re-enter information.
Rules of the Road–
The rules of the "road" are rules of boating, such as recommendations to avoid a collision. The rules are in official USCG lawyer-like language and therefore tiresome to read.
NOAA Buoys–
Love this! Click on a NOAA Buoy near your location or your destination and get a quick water report including: air temperature, ,water temperature, wind speed, wind gust and atmospheric pressure.
Report Features (Hazard, Pollution and Suspicious Activity)-
Self-explanatory, these functions allow the user to report from your exact location using latitude and longitude.
Emergency Assistance–
I almost didn't click on this feature because I didn't want to alarm the Coast Guard unnecessarily! Knowing another option is available for contacting the USCG is comforting, especially because your latitude and longitude are clearly visible in a potentially hectic emergency situation with possibly limited time to answer questions. The function gives you the option of calling 911 or the Coast Guard.
The USCG mobile app is a useful safety option for boaters. The basics are there in one app. One tiny recommendation: change the spelling of center in center console from the Canadian/English centre. After all, it's the U.S. Coast Guard!