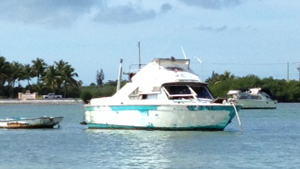 Don't let your boat end up like the one pictured!
Keeping your boat in tip-top shape not only includes regular maintenance to the engine, but also making sure that the outside is protected from the elements. With regard to fiberglass boats, regular washing of your boat is necessary to keep pollution, oxidation, salt build-up and barnacles at bay.
Nearly all marine stores have a wide selection of boat soap available. Please be sure to use soap especially made for the marine environment. Car wash soap or household cleaners can be harmful to fish and other marine wildlife.
Waxing your boat is the first line of defense in keeping your paint and fiberglass protected.  A nice layer of wax not only fends off watermarks, but also prevents oxidation build-up, which makes your boat "chalky".  Waxing has two main benefits, protection and beautification. Waxing a boat makes it look new again!
You can wash and wax your boat as much as you see fit. If you are in a salt-water environment you may need to wash it more often.  Be sure that you use a gentle boat soap so as not to strip your wax off.
Cleaning the deck of footprints and scuffs can be frustrating. After unsuccessfully using boat soap on our deck, we found that a product specific to non-skid decks was key.  Star-brite Non-Skid Deck Cleaner worked wonders. We spread some on the deck, scrub it with a deck brush and let it sit for 2-3 minutes. After hosing it off, the deck looks new. Nothing's prettier than a clean boat!
Here's Starbrite's video: