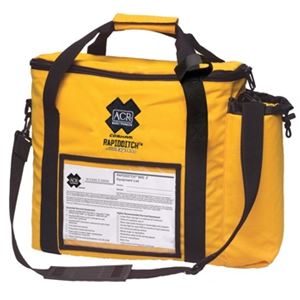 "What's a ditch bag?" It's something you should consider having, if you don't already. When all else has failed and you need to abandon ship, a ditch bag would be a quick thing to grab to help you survive and get help. Ideally the bag should float, include safety gear such as signalling devices and some type of a communication radio. You can imagine that the price tag of such a bag and its contents could easily cost you more than $500, if not over a $1000. This is a bag that you may never need!
For those of us on a budget, here's an affordable array of products that check all the boxes and will make you and your family and friends safer on the water:
The bag: Start with the bag.  It's got to float or your gear may sink. The ACR 2273 RapidDitch Express Bag is the cheapest we found for $49.95 at the gpsstore.com 
Signalling Devices: There are many choices in this category including flares, mirror, light and whistle. You want people to notice you and find you in the water. The most common safety device that you are required to have in your boat is a flare. There are all types, the cheapest being $2 a piece. For this price, it may be worth it to throw a  few in your ditch bag along with other flares you may have elsewhere on your boat. Any marine supply store or even Walmart carry basic flares. More expensive options include ones that are waterproof, reusable and designed for day and night, such as the McMurdo Pains Wessex Day & Night mk8 Distress Signal that smokes on one end for daytime use, glowing flare for at night and can be doused and reused. This is a splurge at $99.95 at landfallnavigation.com. A mirror is a cheap signalling device. Flashing it in the sun can draw attention and if you know Morse code (i.e. SOS is …—…) can signal another boat. Hamilton Marine is selling it for $2.32 during the Christmas season. At $24.95 the ACR Firefly Plus Combination Light is a bargain. It is waterproof, has a strobe option visible for 2 miles and even floats. We think it's  a must. Available at landfallnavigation.com
Communication Radio: We all want to believe our cell phone is all we need, but they can sink, malfunction if wet and can lose a signal. You need a back-up method to call for help. Many boats have a VHF radio on the boat's console. This is fine if you have time to use it. If not, having a portable radio in your ditch bag may be needed. There are a huge array of radios available with a variety of functions and capabilities. If you are looking for a basic cheap radio, the Cobra MR HH125 is a basic radio available at West Marine for $59.99, the cheapest we could find.It's basic, but will do the job. You can find it at  westmarine.com.
The Skinny:  One bag, 4 flares, a floating waterproof flashlight, a portable VHF radio and mirror add up to less than $150. Add some sunscreen and water bottles and you're as prepared as a Girl Scout. Safe travels!
Read More:  Unique Boating Gifts   Our Featured Boating Product: The Autotether Screamer