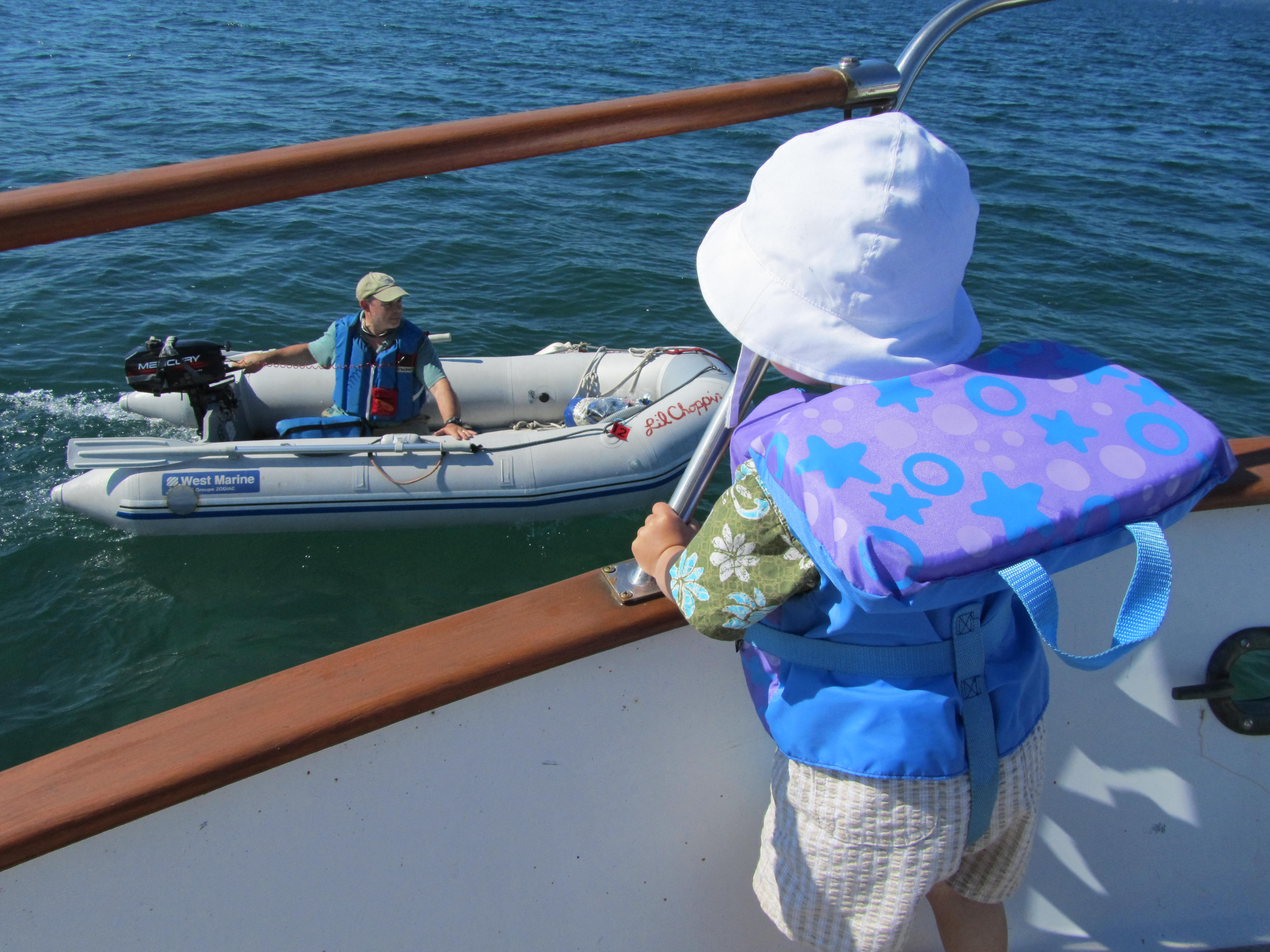 For people who love boating, it only makes sense that when kids enter the picture, you'd want to bring them along. But how do you make boating with toddlers and kids safe? What precautions do you take? Can you childproof a boat, and waterproof a kid?
Mary and Ted Dougherty had three kids under the age of five when they decided to make boating a part of their family life. From their home near the Twin Cities area of Minnesota, they would head north to explore Lake Superior with their 30-foot islander sailboat. They installed netting around the entire boat to make it safe for their kids, who were always in life jackets while onboard.
During the summer, Mary and the kids lived onboard the boat in Bayfield, Wisconsin, along the Apostle Islands National Lakeshore in Lake Superior. Ted worked at their home and came up for weekends and extended vacations. They spent so much time onboard that their oldest daughter took her first steps on the sailboat and had a hard time walking on solid ground.
"When you live in such a small space, especially with a sailboat – it's a different way of parenting," says Mary. "You can't escape your children. Our patterns became really in-tune with each other."
Eventually they had a fourth child, and were pregnant with their fifth when they decided to trade the sailboat for a 41' trawler.
"We wanted to keep boating with kids but there was no way to do it with a sailboat," says Mary. "We needed more of a base of operations." Their trawler, Talisker, had a washer/dryer and two staterooms – and made summers onboard much easier.
To keep an eye on five kids, Mary and Ted set up a doorbell so that anytime the door opened, a bell went off in Mary and Ted's stateroom.  On both boats, Ted sewed lee cloths with grommets and hooked them around the kids' beds, so that even underway, if they hit foul weather at 4 a.m., the kids wouldn't fall out of their bunks.
When it got rough while underway, Mary describes, "I'd take them into my bedroom and we'd sit on the bed, so I knew where they were."
And of course, there was always the life jacket.  "I was pretty vigilant about the butt strap," says Mary.
"A life jacket is a no-brainer," says Mike Fields, executive director of the National Water Safety Congress. "All boats are safe – it's just a matter of being equipped properly. You wouldn't go snowmobiling without gloves. You'd be prepared. With boating, being prepared can get lost in the excitement."
Fields, who spent more than 20 years in law enforcement, has seen too many adults on boats who put kids in adult-sized life jackets or no life jacket at all. According to Fields, all children should be in a child-sized, Coast Guard approved life jacket to insure the child will float face-up in the water.
Fields also points out that it's crucial for kids to develop respect for the water at a young age. "It's imperative that they respect water, not fear it; get them into swim lessons as early as you can."
Is one boat safer than another? Is there an age that a child is too young to take boating? Fields says it's a matter for parents to decide. "Common sense goes a long way. Inside a houseboat, they're pretty safe. In a 12' jawboat…it's so hard to pinpoint exactly. If you don't feel comfortable with your child being in that situation, take them out of the situation."
The benefits of taking the time to ensure your kids' safety while onboard are well worth the trouble.
"Boating with kids is a ton of work," says Mary, "but totally worth it. My kids have such an appreciation for nature."
Today, Mary and Ted's children are teenagers – their oldest is in college – and their days spent together onboard are rare. To take advantage of their limited time, they bought a speedboat, Karl, which can get them out to the Apostle Islands for a day. Still, Mary longs for the days spent crowded onto a trawler with five young kids, three dogs, and a lot of love. "I didn't know what sweet years they were until now, looking back. It goes by so fast."
Felicia Schneiderhan grew up on the Mississippi River. Her blog "Life Aboard Mazurka" chronicles the three years she and her husband Mark lived aboard their boat in Chicago. She currently lives in Northern Minnesota.
Read More:  Autotether Screamer Review