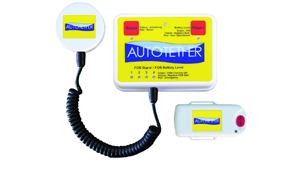 Are you concerned about one of your passengers falling overboard? Do you have a pet that loves to jump off your boat? Then check out the Screamer by Autotether, Inc. The Screamer is a portable wireless device designed to prevent boating accidents by alarming when the passenger or pet hits the water.
 Autotether Marine manufactures both a wireless Kill Switch device designed for the driver and the Screamer for passengers and pets. Because we were going to be renting a boat on vacation and would not be able to attach a kill switch device to the engine, the people of Autotether Marine were nice enough to send us a free Screamer for testing. The Screamer consists of a base device to be placed on the boat and 2 personal sensors. The personal sensors detect moisture when submerged.
 We got out in the Key West waters with our cute 16-foot runabout rental ready to test, test, and test! Or should that be scream, scream, and scream?! Initially we found the directions a little confusing, but soon we realized minimal set up was required. The wrist strap was missing from our sample kit, but 2 carabiner-like clips were available. As soon as the sensor was submerged it caused immediate alarming from the base monitor on the boat warning the driver and passengers that someone was overboard.
 This device is a good option if you have small children, especially if they have a tendency to wander. Autotether also markets the Screamer for beach and pool use.  An added nice feature is that the sensor will also alarm when your child wanders further than 150 feet. As for your dog, the sensor can be attached to a pet's life preserver or instead of the Velcro strap; the dog's collar could be slipped through the attachment slots.