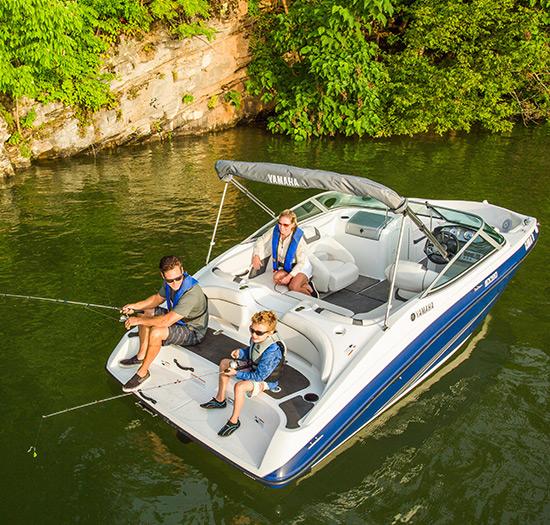 There has been a lot of buzz lately surrounding jet boats. Jet boats are relatively new to the boating world, so many people are reluctant to consider buying one. Let's dive in to what makes jet boats unique and why they should be a consideration when boat shopping.
The first and most prominent difference is that jet boats are not powered by an engine with an outdrive and conventional prop. Jet boats have either single or double engine configurations which have an impeller which sucks in water through an intake grate in the hull and through a pump to propel the boat. The biggest advantage to this is safety. There is no prop to worry about when anyone is near the stern swimming, tubing, etc. In general stern drives have higher horsepower, but many jet boats are quick to plane. Jet boats can go many places most other boats cannot because they have less of a draft. For example, a 2014 Yamaha SX190 jet boat has a draft of 14 inches. A 2014 Sea Ray 19 Sport has a draft of 34 inches with the stern down. So instead of beaching your boat bow-in for an afternoon and having to swim to land, feel free to take the jet boat stern in and walk out onto the beach. Be sure there's at least a couple inches of water and no obstructions near the intake and thrust pump.
Watch BoatTest.com's  video  review of the  Yamaha 190 Series
Jet boats offer many options for the price. All Yamahas come standard with a trailer, bimini top, bluetooth stereo, stainless steel cupholders, pop-up cleats, swim platforms, snap-in carpet, etc. Yamahas range from the entry level price of less than $27,000 to as much as almost $57,000. Yamaha offers 19 to 24 foot length options. Jet boats often have multiple seating configurations with plenty of room to move about the boat due to the compact engines. Currently the only jet boats we can comment on are made by Yamaha. Sea-Doo, a long time solo manufacturer of jet boats, stopped production. Sea-Doo's BRP Rotax engines will be used in upcoming Scarab and Chapparal boats. You can get a peek at the upcoming Scarabs on Marinemax's website, but no specs yet.  It will be interesting to see what they offer.
Tending to be smaller,  jet boats are often used for inland lakes and rivers.  They are popular for multi-use family watersports like tubing, wake boarding and waterskiing. If you are in the market for this type of boat, jet propulsion is worth consideration the next time you are boat shopping.
Read More:  Affordable Boating Is Possible  The "Other" Costs of Owning A Boat   Why Go To A Boat Show?