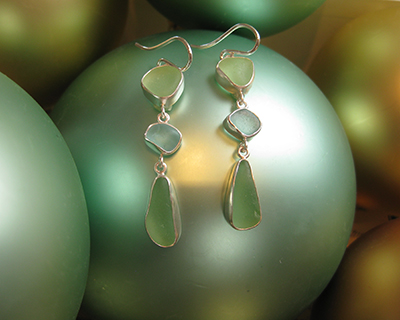 Are your kids dying to drive the boat, but not yet old enough? SpongeBob's Boating Bash video game can be a fun way for them to drive a boat derby style.  For $16 they can race on Bikini Bottom with all the crazy characters of the Sponge Bob Squarepants crew. Available on Amazon.com and where most video games are sold.
The Shoot A Brew Cooler is a gift for the beer drinking boater buddy that has everything.  It is a cooler that actually throws beers. Tailgaters would love it too. Using a waterproof remote control, the operator can toss a beer (or soda!) to friends. On the website's video beers are tossed from the aft of a boat to awaiting swimmers. Crazy idea! Shootabrew.com
Jewelry inspired from the sea is always a great gift for those of us who love life by the water. These two jewelry items are sure to please. Verrala.com has given beach jewelry a unique twist with its earrings shaped like beautiful kelp. LisaHallJewelry.com has an entire seaglass collection that is simple, yet elegant.
Sea Eagle makes sturdy inflatable kayaks that won't break the bank. Rated highly across the internet these boats give you another option for entertaining or may be your only way of getting out on the water. At less than 30 pounds and packed in a sleeping back-like sack, the Sea Eagle 330 Sport can be easily stored in your boat, car or dock box. Sea Eagle makes multiple models that can be found at Costco and outdoor sports stores.
Read More: Unique Boating Gifts  Waterproof Boating Gifts